When you have a family of five, car trips become more and more attractive when planning a vacation. Simply eliminating airfare and a car rental (a pricey vehicle that can hold 5 with luggage) is a substantial savings, so I can't help but remain eager to find driveable East Coast getaways. Now, throw in an educational component and you've got a real jackpot of a family vacation.  Like the one we took to Colonial Williamsburg — the world's largest "living" outdoor history museum.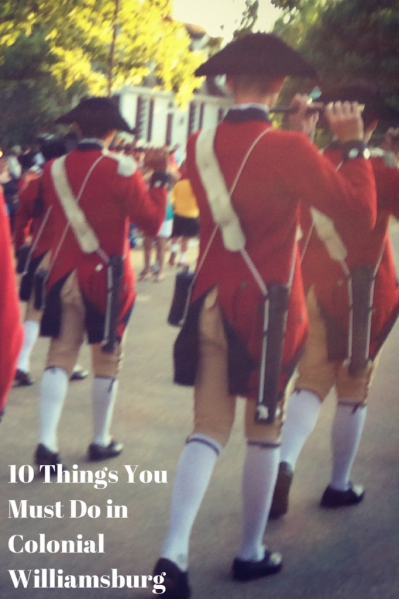 Go back in time (over 200 years) in the Colonial Williamsburg Historic Area, where you can experience what it was like to live during one of our country's most important periods by fully immersing yourself in it. On over 301 acres you will find eighty-eight eighteenth century structures, comprised of houses, shops, taverns and public buildings.  Every location you explore in this area is either original or recreated down to the last detail — from the authentic tavern menus to the wallpaper on the walls, to the measured rhythm of the fife and drums often heard in the streets.
But the people are the real magic that make this destination a true experience.  Unlike any other historic location one may visit, this one steeps you into the goings on in a typical day and subtly reinforces all of the historical facts without you even realizing how much you've absorbed (or how fortunate you are that the buildings are now air conditioned!).  At every turn, you are surrounded by costumed interpreters who share information about their everyday lives with you.  Acknowledging that most visitors are 'from the future,' the locals there permit you to take pictures with that strange hand-held device you carry around and are eager to remind your teenager how lucky they are to come from a family that can afford mouth jewelry (braces) — silver is a currency to them.
The truth is, you could easily spend a full month learning about colonial life and enjoying the many programs offered (incredibly, the Revolutionary City is open 7 days a week, 365 days a year). Upon your arrival to the area, be sure to grab a copy of the Map and Program Guide, which will list all of the events offered throughout the week (there are many special programs that are not offered all the time). Whether or not you have the luxury of time, here is a little list of things you must (at least try to) do in Colonial Williamsburg:
1. Roam the Streets for Starters – There's a lot to take in (Duke of Gloucester Street is almost a mile long), so get your bearings and experience that wonderful sense of discovery as you happen upon townsfolk chatting about issues of the day or find yourself in the center of critical moments in history as a Revolution in the Streets may unfold before you.   Engage in colonial games or go ahead and strike up a conversation with a stranger, because you just may be chatting it up with Thomas Jefferson, George Washington or Patrick Henry!  Download a street map here.
2. Public Buildings – Even though all eighty-eight buildings are not open at the same time (and some are not open at all), there is still an enormous amount to see and some locations take much more time to view than others,  as they may involve a 10-30+ minute tour.  (Note, the tour guides are in a word: charming!)  Among those buildings you definitely want to see are: Bruton Parish Episcopal Church, the Capitol, Courthouse, Governor's Palace, Magazine & Guardhouse the Public Gaol (jail) and the hospital (if you have time).
3. Learn About Historic Trades – Even if you don't think you're interested in the subject matter, it's worth your time to see as many of these amazing locations/tradespeople as possible: the apothecary, basketmaker, blacksmith, brickyard, cabinetmaker, carpenter, cooper, foodways, gardener, gunsmith & foundry, milliner, tailor, printing office, bookbindery, shoemaker, silversmith, weaver, wheelwright, wigmaker.  Yet again, it's the people who have mastered these arts that really make this special! As they work, they are there to answer your questions and tell you about their challenges and experiences.  It should be noted that throughout Colonial Williamsburg many of the furnishings and general items that you see have been hand-crafted right there with tools from the 18th century (ie, the entire interior of the courthouse).
4. Be Spontaneous – In particular, when it comes to visiting Homes and Gardens. This can be a little daunting as the homes aren't marked quite as clearly as some of the other buildings – you may pass by a seemingly interesting dwelling and have no idea of its significance. And, this can all be a bit hit and miss based on which homes are open on the particular day that you are there. Note: a flag out front indicates it's open. However, some of the most interesting dwellings we visited were completely spontaneous, either we happened to wander upon a place that was open and struck our curiosity (like the James Geddy house) or we were lured into a tour by a guide who saw us passing by (like Wetherburns Tavern).  Just go with it!  And, if you see some lovely gardens along the way, stop to take a moment to literally smell the roses.
5. Eat at a Tavern – Here's your opportunity to eat like they did in the eighteenth century.  Dine at one or more of the taverns for lunch or dinner, as they all have a different menu (and children's menu), from chophouse to seafood, as well as their own home brewed beers.  Note: if you visit the Shields Tavern, ask for the beer flight! You may dine by candlelight, get serenaded, join a singalong or play old tavern games, depending on where and when you dine – a must for at least one of the meals during your stay.
6. Go On a Ghost Tour — It may not come as any surprise that Colonial Williamsburg has a rich history of ghoulish colonial ghost stories surrounding it, but believer or not, you've got to hear a few for yourself. One of the most popular tours is the family friendly,Tavern Ghost Walk, which offers a small sampling of mysterious stories, all told from the street, about occurrences in various taverns and historic buildings. There is also the Ghosts Among Us tour for the more adventurous (not recommended for kids), which goes into various haunted buildings and sites and Pirates Among Us if ghoulish pirates are your thing (also not recommended for kids).  If witches fascinate you, sit in on a candlelit inquiry at the Capitol where you become part of the jury to determine the guilt or innocence of "The Virginia Witch" at Cry Witch. To my dismay, this was not offered the week we were there, so be sure to check the online schedule in advance if you've got your heart set on any particular activity!
7. Play RevQuest – This is a highly unique, interactive scavenger hunt of sorts in which the players (your whole family) experience what it may have been like to have been a spy when our country was on the verge of declaring independence from Great Britain. Except for the part that involves using a smart phone.  Players give and receive codes that inform them of locations they must find at particular times to either get word from an actual informant or decipher a code containing highly sensitive information.  You do not need to do the whole thing without taking breaks, though the 2.5-3 hr experience does need to be completed on the day it is started. Note: RevQuest is included with your paid admission to Colonial Williamsburg and you can start your journey online here.
8. Eat Off the Reservation: You can't survive on tavern food alone.  At the west end of Duke of Gloucester Street is Merchants Square where we trial and erorred our way around.  Hands down our favorite discovery was the Aromas Cafe, where everything is made fresh and the casual setting is a welcome site for breakfast, lunch or dinner.  We also enjoyed Dog Street Pub for a hearty, casual lunch, with an impressive list of beers on the menu.   If you love seafood try Berret's Restaurant and Taphouse Grill and The Fat Canary if you're a foodie for sure.
You MUST stop into The Cheese Shop for cheeses, wines, sandwiches and more that you may want to keep in your mini-frig – a lovely selection of everything here. After an amazing meal, we loved walking around the empty streets and somehow found ourselves at the doorstep of the tried and true Baskin Robbins more than once!
9. William and Mary College – Just past Merchants Square is the college of William & Mary.  The 320 year old institution has a very impressive list of graduates ranging from Presidents Thomas Jefferson (class of 1762), James Monroe (1776), and John Tyler (1807) to fashion designer Perry Ellis (1961), actress Glenn Close (1974), comedian and political satirist Jon Stewart (1984) and numerous other accomplished individuals (from NASA astronauts to Supreme Court Justices).  Honestly, is it ever too soon to start looking at colleges these days???
10) Any of the Following: Explore a museum, visit rare breed animals, rent a bike, play tennis, lawn bowl or golf for free (limited times for Colonial Williamsburg hotel property guests), hit the spa, ride around town in a carriage ($15 per person for 15 minutes), shop (period-style silver, soaps, kid games and tons more), visit historic Jamestown, ride the Verbolten at very nearby Busch Gardens and I am quite positive I haven't covered half of the activities in Colonial Williamsburg!
Lastly, I would also highly recommend staying at one of the six Colonial Williamsburg hotel properties. We stayed at the Lodge and were pleased with the accommodations for the price (though the bathroom could use an update).  Lots of benefits to staying here, most especially the bonus of being walking (or free shuttle) distance to everything you want to see and do!
You can book your entire stay (including restaurant reservations and events) online, but I suggest calling 888 965-7254 and talking with one of their reservationists who will also help you plan meals and events with proximity in mind.  Note: don't forget to ask about the AAA discount!
When it's all said and done, you'll give the whole experience one big huge Huzzah!
Aroma Cafe